Two years ago today was the last day I ever saw my father alive. Last year, I spent all of January dreading this anniversary, only to be rushing our rabbit to the ER vet. We "helped Nixie get to Grampa" that night, and it all went down at midnight. It couldn't have been timed any worse. That is to say, losing our beloved first born rabbit on any worse a night than that one. This year, it somehow seems more manageable. I've survived all those first year of firsts, and now all the seconds too. Now I just live with what is.
Thing is, I'd put away my artistic pursuits to focus on writing for most of my adulthood, until my father died. Two years ago on the 30th, he died of a heart attack. He collapsed, breaking his nose on the way down on the sideview mirror, and it never bled. He died without a warning. In an instant. It'll likely be one of the most shocking moments of my life.  And I buried myself in work to cope.  Except, for the first time in my life, I couldn't find words.  So I found my way back here. . .
I opened an Etsy shop on a whim, believing no one in their right mind would want what I was selling. Custom letter art, at the time. Something I did when my father was alive. That he'd always bring up. "Are you ever going to do something with that? Do you still draw those tiny people?" Truth be told, I think he thought it was a ridiculous waste of time and couldn't fathom how anyone could spend hours entertaining themselves by drawing the same images over and over and over and over. LOL! He liked to cut grass. No, really. If he'd won the lottery, and retired, he'd have bought one of those massive (stadium kind) riding lawn mower, and a property with a hundred acres of yard, and cut grass all day long. We shared other things in common — love of animals, sarcastic sense of humor — but our livelihoods although vastly different, were respected and understood.
I think I opened the shop for him. And two years later, I've had over a hundred orders through Etsy alone. Far more than I could have ever, ever anticipated. Something I now cannot fathom my life without. And it all happened so organically, even the transition into portraits. I've always been obsessed with the human face (and canines, I love my zoo!) Somehow, capturing life in a set of eyes, never dulls. I love what I do.
One of my first portrait was of him: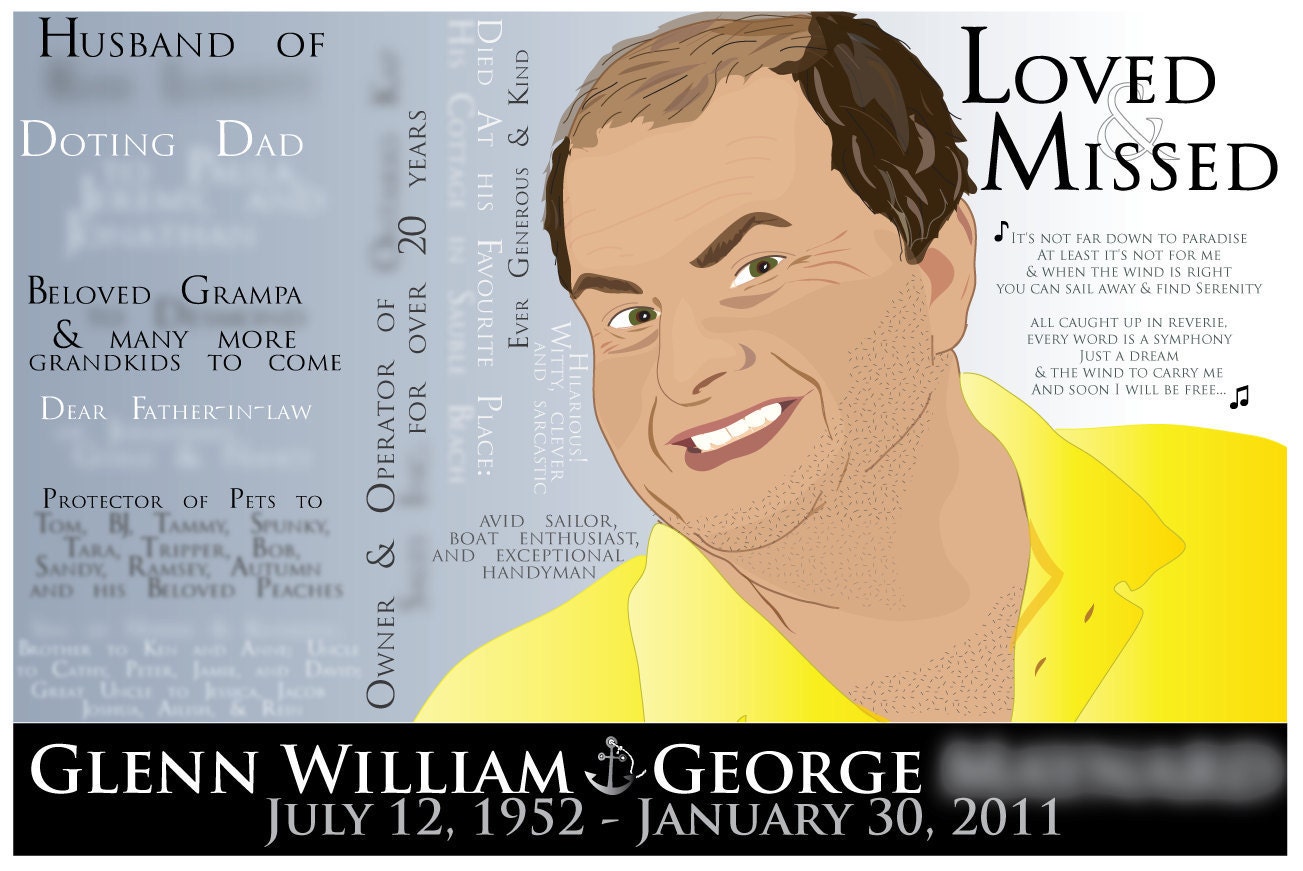 I made this for him, for his grave. It rest there until we got a permanent marker.

The sheer amount of time I spent researching metal prints, how to mount it onto a granite slab so it wouldn't blow away.  Hours upon hours meticulously planning. It's what I did while we approached the first birthday he'd not live to see. And it was down by Fall. It weathered an entire winter without fading. Metal prints are exquisite, and I'd offer them more often if anyone could afford the shipping! LOL! I loved how much information I was able to pour onto that slab.  That I literally drew every line of his face practically blind from my own tears. And yet, it soothed me. So much. And I imagined that passerbys would see it, and know that he wasn't just buried there, in an unmarked grave, but that they knew him. Really knew him, like we did.
Sneaky, back when, giving Grampa a kiss.

My second born is now 2 days younger than her older brother was, the last day my father and my son were together. When Grampa saw Sneaky do all the actions in Pat the Bunny. When Sneaky found the musical keys under the pot. When Sneaky was enthralled by my father's hands, and I saw them (really saw them) for the first time. And thought, rather ominously, how weird it would be to see his hands in a coffin and see them like this for the first time. Hands I uncovered only a week later. In his wooden box.  To see them like that, one more time before he was turned into ash. And Sneaky gave him a kiss goodbye.That visit is so clear in my head. And I cannot believe that in two days time, my daughter will be older than my son ever was in his eyes.
If he'd not have died, I might not be making art. I probably wouldn't be selling it. And my daughter wouldn't have the name I gave her, which was to honour him in meaning, and — most importantly — be a name would hear him say, knowing he'd never live to speak it.
The other day we were watching a video of him. And I said, "Look, Meekly, that's your Grampa." And Sneaky went, "Grampa downstairs, driving around." And I replied "Really, what do you mean?" And he ran off. Returning with his favourite red car. Sure enough, my father's grinning face was stuffed in the trunk. Sneaky had plucked it out of the ornament frame from our Xmas tree, and put him inside. "Grampa going for a drive. Having fun," Sneaky informed me.
And believe me, was he ever! The car went down a flight of stairs, and Grampa's face was still smiling. Pretty sure if there's a Heaven, he's in it – in Sneaky's car. (My father having worked in the truck kap business his whole life!) The trunk is see-through. Holy hell was that a funny sight! Two years later, it's about the little joys in this loss. Not dwelling on the entire lifetime ahead without him in it (which on occasion, still barrels me over in grief).
And keeping him alive in my art.
Here's another I recently did of him. In a new style. I got in everything that made him, him. The coca cola, the icecream, his Peaches, sunsets, his kaps, Top Gun, the VCR (he vowed it would be my first word & it very nearly was, after Dadda!), the dust (man, I miss you teasing me about my inability to dust, Pa), and Survivor. Let it be known that if my father had ever made it on Survivor, and a loved one was going to compete in a food challenge for a visit, he wanted Ramsey, his yellow lab to come. Rams would eat it all faster than anybody, and then he and Rams could play ball on the beach together for the rest of the day. Rams died a day after my dad, and is buried with him. I bet they play ball all day long together.

Love you, Pa. And your first granddaughter would have loved a big Grampa hug and to stuff her whole hand in your mouth, the way Sneaky did at the same age. She gets the biggest kick out of your videos. And I thank modern technology everyday, and your equipping me with a video camera and the secrets to recording a personal VHS for my endless hours of footage of you laughing and being you – that I'll replay for them in the years to come, so no one will forget your laugh.
We miss you. : )