So several things. I've got a new header! More apropos the blog. And also, I just love to revamp things. I revamped my office space, and the header seemed like a much needed second. So voila. Will do a behind the scenes on that next week.
I revamped my office when cleaning it up for our guests! My sweet sister from another continent, flew onto Canadian soil, then joined us for a few days! It was way way way awesome! We've 'known' eachother for over 7 years and this was the first in person meeting and it went just as awesome as I dreamed it would. She was so incredibly patient and protective with my children & Sneaky adored her! We went to the zoo. Sisters, indeed!
After she left though, I realized that in two days (so now, today) it would be my father's birthday. And he would be turning 61. Had he lived.  It hit like a punch in the gut. I HATE these kinds of anniversaries. I hate them so much, I almost instantly threw myself back into my art making (read: new header) to cope. And also, because it's what I did to get through the grief right after he died in the first place. And now I'm dealing with the very real possibility I may not be able to drive out to his grave to see him later today (it's 3:37 over here! LOL!) It's the first this hasn't happened in three birthdays. And I don't know what to do with this.  On the one hand, obv it doesn't matter where I am on this day. But on the other, it feels like acclimating to this new life in a way I just shouldn't be acclimating. Like it's disrespectful. Even if I — quite literally — won't have the transportation to make the journey. I don't know, I don't even have words to articulate it. And when I try to, I just want to shut down this post and throw myself back into Illustrator again coming up with another set of new listings.
Speaking of those? Yes, I'm putting up some new listings, despite having — probably — more than enough in my shop already. But it's about time I revamp some of those too! But I've also decided to finally do some celeb ready-made portraits! A good way to — maybe? — make some money off my art without having to put in AS many man hours (I'm so unfamiliar with this concept) as well as creatively indulge some whims (& bring in more FB participation! Want to choose a celeb too? And a famous style to merge it with? Comment, I'd love to hear it!) AND I've deemed that, to start, I'm only going to do celebs I adore. Starting with Einstein. What, he's not a celeb? Oh, what ever. You know what I mean! 😉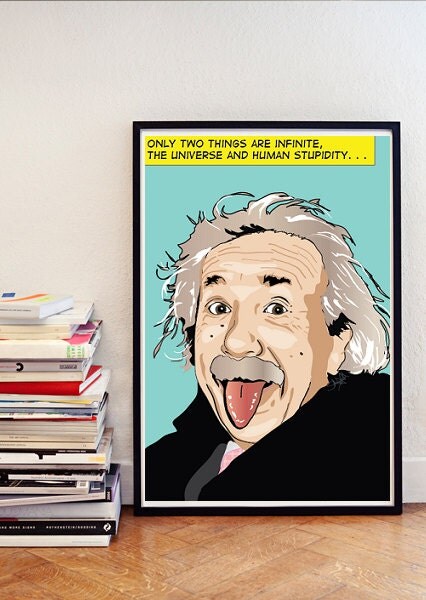 My fave quote! My fave INTP!
Comic Einstein! Posters available at 24×36 (movie sized) for $33! Ready to ship upon checkout! Interested? background colours are customizable! I'll be releasing in batches of 10. Come signed and dated by moi!
Want to see some other spectacularly cool Einstein items I found on Etsy (of course you do!) check out my treasury! Had to make it after seeing this pillow! OMG WANT!!!!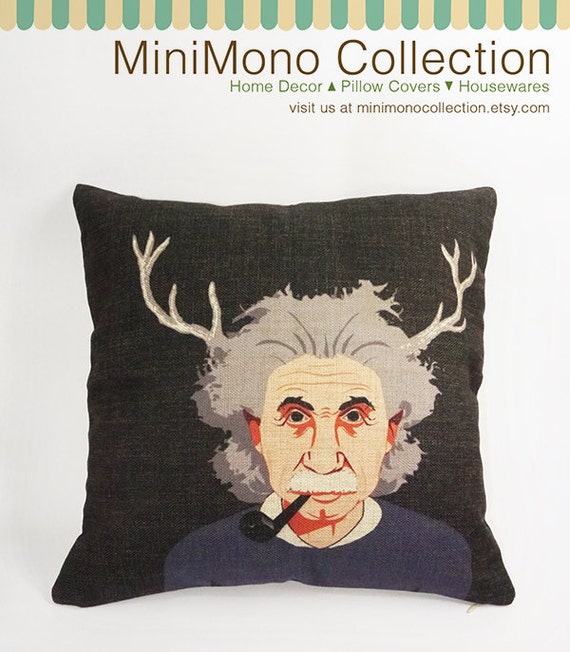 I also REALLY want that stamp set! OMG!!!
Happy 61st w0uld-be birthday, Pa!